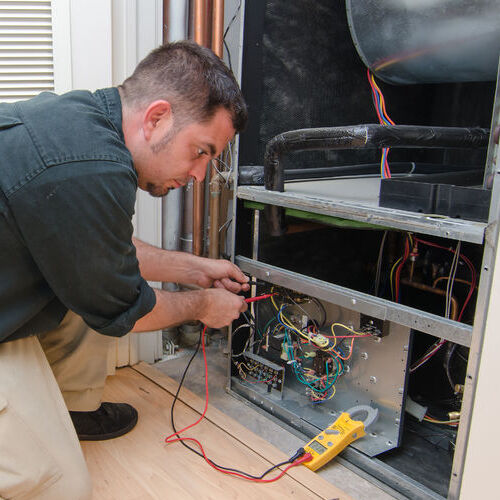 Reliable Heater Maintenance
Before the first hard freeze hits, you want to make sure your heating system will keep you warm. With regular heater system maintenance in Granbury, TX, you can make sure you're warm and toasty when winter's first cold front hits.
Whether you have a gas or electric furnace, boiler, or other heater, when you want to set up a reliable maintenance program, you can always count on Texas Made Air Conditioning and Heating. We offer comprehensive maintenance services for both residential and commercial customers. Set up services today by calling 817-579-9377.
Our Heating System Maintenance Services
When is the best time to schedule maintenance for your heater? Anytime is good. But for heating system maintenance in Granbury, TX, get your heater checked out thoroughly in the fall before the first cold fronts begin to sweep in. In this area, that usually means sometime in October but, as you might know, Texas weather can change pretty quickly, so don't hesitate too long.
Why Set Up Regular Maintenance?
When you work with the skilled professionals at Texas Made Air Conditioning and Heating, you're going to discover many money-saving benefits from heater maintenance. Here are just a few of the benefits:
Reduced need for repairs
Safer system operation
Improved energy efficiency
Better indoor air quality
Consistent & uninterrupted comfort
Lower heating bills
Peace of mind
With our maintenance programs, we regularly inspect, repair and clean your system. Here are just a few of the services that we provide:
Filter inspections and replacement
Thermostat inspections, replacements or upgrades
Furnace or boiler inspections
Fuel line/gas line inspections and repair
Ventilation inspection and repair
Duct inspection and repair
Central heating inspection, maintenance and repair
With our maintenance programs, we try to address any small problems you might have before they become big problems in the future.
Your Most Importance Maintenance Project
When it comes to heater maintenance, one of the best things to do is regularly check, clean and change out your filters. Depending on the system, this is often a DIY project, but our technicians are happy to provide you any help you might need. That's just part of our commitment to customer service.
Dirty, clogged filters restrict airflow. This causes your heater to work harder to heat your home or business. The harder the heater works, the more strain it puts on the system. This strain causes parts to wear out faster and use more energy. Clean filters reduce energy consumption by 5% to 15%. You'll wind up spending more money on parts repairs as well as utility bills. It's also more likely you'll end up replacing the system sooner than expected.
Dirty filters also release dust and other contaminants into your home. This can cause health issues such as allergy or asthma flare-ups and reduce the overall quality of your indoor air.
We recommend changing your filters every six months. You might consider marking the filter with the date to help you remember when you last changed it.
Set Up Maintenance Services Today
Make sure you stay warm this winter by keeping your heater well-maintained and running consistently and efficiently. When you need reliable and expert heater system maintenance in Granbury, TX, it's easy to set up services with the professionals at Texas Made Air Conditioning and Heating. All you have to do is call us at 817-579-9377.