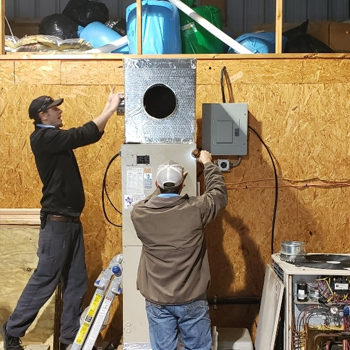 Heater Services
You depend on your heater for warmth and comfort during the coldest part of the year. If it fails, you might have inadequate heat or no heat at all. An older or poorly maintained system will run less efficiently and you'll end up spending more on utility bills. Texas Made Air Conditioning and Heating knows how much you depend on your heater in the winter, and we care about your comfort and safety.
Are you looking for a quick and dependable heating company in Granbury, TX? Whether you need a new electric or gas furnace or even a heat pump repair, Texas Made Air Conditioning and Heating will find the right solution for you. We offer an extensive range of heating services to fit your needs and serve both residential and commercial clients. We also offer same-day service. You can set up a service call today at 817-579-9377.
Our Services as a Heating Company
As an established heating company in Granbury, TX, Texas Made Air Conditioning and Heating likes to offer our customers plenty of options to choose from. That's why we offer an extensive range of services. Our slate of services is just one reason our customers choose us for heating services. Here are some other reasons people choose us:
We provide excellent customer service and work with all makes and models of HVAC equipment.
We give our customers detailed and reliable HVAC information.
We make sure our services keep you comfortable at home.
We are experienced HVAC contractors with the ability to inspect your system and recommend the smartest solution that will fit your needs.
We offer 24/7 emergency service.
Because we are committed to customer service, we like for our customers to have plenty of options. That includes the option of choosing the right heating company that fits their needs. That's why we're always happy to provide second opinions and estimates on services. We believe you'll like what we offer. Our prices are competitive and our service technicians are some of the most skilled around. They are trained to work on all makes and models of gas and electric heaters, as well as heat pumps.
Broad Selection of Service Options
Again, we're all about options. Here is just a sample of the services we can help you with:
Electric furnace repair: Whether your electric furnace has stopped heating because of a worn thermostat, faulty burners, duct damage, or other problems, our team of professionals is the experienced team to call for heater services in Granbury, TX. We offer affordable repairs and replacements on the latest systems from leading manufacturers like Carrier.
Gas furnace repair and replacement: Whether your gas furnace is failing to heat sufficiently or is producing no heat at all, our pros can find out what's causing your heating problems and fix them quickly. If your old heater needs to be replaced, we offer the latest energy-efficient systems. We provide affordable, reliable heating service in Granbury, TX, and throughout the surrounding communities.
Heating system maintenance: Regular maintenance and repairs from trained professionals like those at Texas Made Air Conditioning and Heating will keep your heating system warming no matter how cold it gets outside. Because the parts in your heating system work together to warm your home, any part that fails could cause the heater to stop working and leave you without heat– until repairs are made. For optimum performance, make sure to set up a maintenance plan with our skilled professionals.
Give Us a Call Today
Whenever your heater is malfunctioning, you want to make sure you have a reliable, trusted heating service to repair it. You'll find that reliability at Texas Made Air Conditioning and Heating. We're an established and trusted heating company in Granbury, TX that provides a complete range of services. You can find out more about our team or book a service appointment by giving us a call today at 817-579-9377. We look forward to working with you.