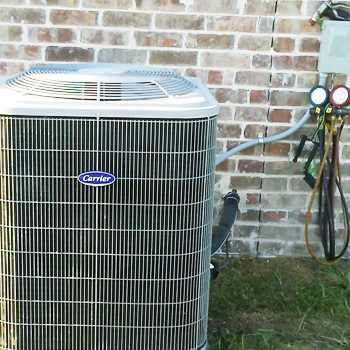 Expert Air Conditioner Installation
Texas Made Air Conditioning and Heating knows how hot it gets in Granbury, TX, and surrounding communities, in the summer, and that's when you rely on your air conditioner the most. If your air conditioner is more than 15 years old, you might be noticing that it isn't keeping you as cool as it once did. Its parts are probably pretty worn and it's probably using a lot more energy to keep your home or business at a comfortable temperature. You're probably spending more on electricity bills and maybe putting a lot of money on repairs. If that's the case, it might be time to replace the system. And, for that, you'll want to find professionals experienced in air conditioner installation in Granbury, TX.
We are the pros you're looking for. Our knowledgeable professionals will make sure your system works its best. With our team, you have the best local AC installers in the area. It's easy to schedule a service with us, as well. All you have to do is call 817-579-9377.
Our Air Conditioner Replacement Services
Why do homeowners and businesses rely on Texas Made Air Conditioning and Heating for air conditioner installation in Granbury, TX? Here are a few reasons we've become a trusted, local source for AC services:
Our technicians provide high-quality installation services. They know how to install all makes and models of air conditioning, including mini-split AC systems.
We take pride in providing superior customer service. Your satisfaction is 100% guaranteed. We'll get the job done right.
We offer affordable, upfront pricing.
We work quickly, providing fast, effective installation services. We want to get your new system running as quickly as possible to restore your safety and comfort.
Our technicians are always friendly and courteous. They'll answer questions and offer as many options as they can.
Moreover, from the moment you call us, we're going to work closely with you to make sure you get the right cooling system for your home or business.
Some Signs It's Time to Replace Your AC
Most air conditioners will last about 15 years before they need to be replaced. That's because aging parts expend more energy to keep you cool and the older your system gets, the more likely it will frequently break down. Other reasons you should consider replacing your system include:
Decreased comfort: If your system isn't cooling like it did when you first installed it, no matter how old it is, you'll want to call in one of our professionals to inspect it. We will be able to determine whether you need to have repairs or need a new one. Inefficient components will drive up your utility bills while your comfort is decreased.
Extensive repairs: Older systems often have older parts that break down more often because of the strain put on them. If you're spending more and more on repairs, you'll save money by getting a new energy-efficient system.
Maintenance Plans
When we install new air conditioners, we can set you up with a maintenance plan that will ensure your AC is performing at peak levels. Having a maintenance plan in place is one of the best ways to save money on a new air conditioning system. Our annual service plans are set up to make sure your HVAC system is always performing at its peak no matter the season. Regular maintenance can save you in repairs and even premature replacement. It's recommended you get your air conditioner serviced in the spring and your heater serviced in the fall. All services that we offer are provided for both residential and commercial customers.
Give Us a Call Today
If you have an aging air conditioner that's not cooling as it used to, it might be time to replace it. Whether you're a homeowner or business manager, when you need trusted local experts for air conditioner installation in Granbury, TX, you can always rely on the team at Texas Made Air Conditioning and Heating. Set up a service appointment today by calling 817-579-9377.