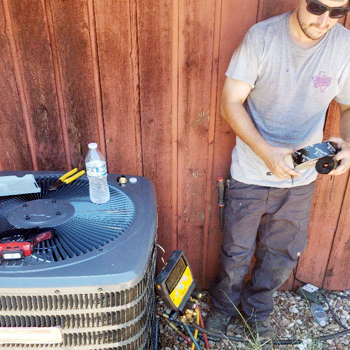 Parts Replacement Experts
Your heater is indispensable in the winter, and when you need it most, you hope it doesn't break down on you. Every part of your heater relies on the other components for it to work properly. Whenever one part breaks down, your whole system can crash, you'll be without heat, and your comfort levels will quickly diminish.
A malfunctioning part needs to be repaired or replaced to ensure your heater is working at optimum levels. To ensure prompt response for heater parts replacement in Granbury, TX, rely on the trusted experts at Texas Made Air Conditioning and Heating. We offer a full range of parts replacement options for both gas and electric heaters. When you need help fast, give us a call at 817-579-9377.
Our Heater Parts Replacement Services
Homeowners and businesses know they can trust Texas Made Air Conditioning and Heating for heater conditioner parts replacement in Granbury, TX. Here are a few reasons why our customers rely on us for all their HVAC services:
We provide excellent customer service and work with all makes and models of HVAC equipment.
We give our customers detailed and reliable HVAC information.
We make sure our services keep you comfortable at home.
We are experienced HVAC contractors with the ability to inspect your system and recommend the smartest solution that will fit your needs.
We offer 24/7 emergency services.
We also know how valuable your furnace is when temperatures drop in the winter. It's a source of comfort and well-being. If one part is malfunctioning your heater won't run efficiently, and it might not work at all.
We all know how dangerous it can be to be without heat during a hard freeze. That's why we act quickly when you call us. Our goal is to make sure your safety and comfort are restored as soon as possible.
Moreover, you count on our technicians to be knowledgeable about the latest technologies and the most up-to-date training to best service your system. They also have the ability to provide parts for all makes and models of systems and equipment. We can repair both gas and electric heating systems.
Among the brands we service include:
American Standard
Carrier
Comfortmaker
Lennox
Rheem
Ruud
Trane
Don't worry if your system isn't listed. Our technicians are highly qualified to work on all makes and models for residential and commercial clients. We will be able to help you.
Our Commitment to Customer Service
We're all about providing our customers with options. That's why our technicians are trained to work on so many types of HVAC systems. Giving you options is also why we are always happy to provide you with a second opinion when you're shopping around for the right service for you. In that case, we'll check your system and give you an estimate to compare with any others you might have at no obligation. We believe you'll find our service courteous and prices affordable.
Our Full-Service Parts Replacement
We are capable of offering full-service parts replacement for your HVAC system. Here are just a few of the parts that we work with:
Gas valve: Gas valves regulate the flow of gas in a gas heater, and so are essential to its operation. If the gas valve produces too much or too little pressure all kinds of problems can be created. Gas leaks can also originate from a bad gas valve.
Heat exchanger: The heat exchanger is one of the most important parts of your heater. It's the part that makes the air warm.
Hot surface igniter: Some gas systems rely on igniters rather than pilot lights. A good igniter will last about three to five years before it needs to be replaced.
Inducer motor: Inducers are motor-driven fans that circulate air in your heater. They also prevent the burners from getting clogged with soot when the heater is running.
Pressure switch: Pressure switches are safety devices on gas furnaces. If the venting pressure is not right, the switch shuts the furnace down. If the pressure switch fails, exhaust gases can escape into your home.
Again, these are just a few of the parts that we can service for both gas and electric heating systems.
Do electric heaters need to be replaced?
If your heater is more than 10 years old, you should probably consider replacing it, especially if you are having to make a lot of repairs. You'll generally save in the long run by replacing the system.
Why is my house cold if the heater is on?
Your heat might not come on for a variety of reasons. You could have clogged or dirty filters, bad insulation or leaky ductwork or any other issues could cause heating problems. If changing out your filter doesn't warm things up, it's time to call a professional.
Call Us Today
From checking heat exchangers to ensuring gas valves are producing enough pressure, when you need a team of professionals for heater parts replacement in Granbury, TX, look to Texas Made Air Conditioning and Heating. Our service offerings are extensive and we usually can get to you on the same day that you call. Set up a service appointment by calling 817-579-9377.